Photo: The Palestinian Embassy, New Delhi
Published in Scroll.in. 22 November 2015
In 1989, Safdar Hashmi – the Indian actor, playwright and theatre activist – was shot dead while performing a street play in Jhandapur village in Uttar Pradesh. More than two decades later, in 2011, the Palestinian-Israeli actor Juliano Mer-Khamis was struck by a hail of bullets outside The Freedom Theatre in West Bank's Jenin refugee camp.

Both Hashmi and Mer-Khamis were murdered for the ideas they espoused: in Mer-Khamis's case, it was Palestinian freedom from Israeli occupation, and in Hashmi's instance, it was concerns about the working classes and the divisive forces of communalism. Both Hashmi and Mer-Khamis were united by a concern for the oppressed. Both of them were agitating for freedoms.

To push forward their ideals of countering oppression through culture, The Freedom Theatre and Jan Natya Manch, the theatre company co-founded by Hashmi, have come together this year. Both groups will participate in a joint production which will travel, over the next three months, to Lucknow, Bhopal, Mumbai, Bangalore, Hyderabad, Kolkata, Patna, Kozhikode and Mallapuram. There will also be a performance on January 1, 2016, at Jhandapur, where Hashmi was assassinated.

The TFT website notes: "Janam and TFT have suffered the loss of friends as a consequence of intolerance; we are connected by experiences of resisting oppression in search of freedom."

This collaboration, announced by the Palestine embassy in Delhi last week, becomes important in the light of the killings of MM Kalburgi, Govind Pansare and Narendra Dabholkar. Prominent writers or activists, they were again murdered for their views.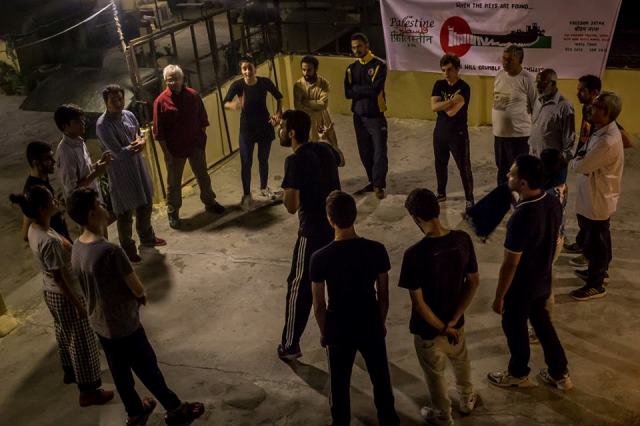 For Faisal Abu Alhayjaa, director of The Freedom Theatre, art and culture have a strong ability to shake up the status quo.

"Do you know what intifada means?" he asked. "It is an Arabic word meaning shaking up. The first Palestinian intifada of the 1980s saw demonstrations, a lot of street fighting and stone pelting. The second intifada, which began in 2000, was more aggressive – with soldiers, guns and F-16. The third intifada must be cultural.

"The killing of Hashmi and Mer-Khamis showed that their art was effective. It proved that their art could be dangerous. They opened new ways of thinking, offering ways of saying no, and saying no is dangerous. But this is a responsibility of art."

In the same vein, he cites the works of writer Ghassan Kanafani and cartoonist Naji al-Ali, both Palestinian, who were also killed.

Cultural resistance

Faisal, who learnt from and was greatly inspired by Mer-Khamis, feels theatre is a powerful weapon against the Israeli occupation. "The Israelis want to us become shaheed, that we become stone pelters so that they can kill us. Even children are attracted by the idea of becoming a shaheed when they grow up. Palestine isn't just a name, it has to grow and needs it people."

The Israeli occupation isn't just a physical occupation, he says. "It is in the minds, thoughts and images. This needs to be countered."

"When we perform a play it stays for 100 years. Take Arna's Children, a documentary which shows the history of TFT. It was made by Mer-Khamis and shows the history of a theatre which had its origins in the '80s. But we still talk about it and ask people to see it."

Faisal feels that Palestinians have always been placed in situations where they could only react. "Even intifadas were a reaction. But we need to ask questions, create and initiate. This is possible through theatre."

Brijesh Sharma, actor and writer for Jan Natya Manch, says the Indian theatre company's production with TFT will raise awareness of the occupation of Palestine and show the "parallels of experiences of anti-imperialism in India and Palestine". Given the rise of intolerance in India, he adds, cultural resistance will be crucial.
Read the original article: https://scroll.in/article/769703/how-to-fight-intolerance-with-culture-a-palestinian-indian-theatre-production-shows-the-way