Published in Al Jazeera. 13 April 2018.
Cox's Bazar, Bangladesh – It is a hot, chaotic morning at Kutupalong, the world's largest refugee camp located on the Bangladesh-Myanmar border. Rohingya women, men and children, uprooted from Myanmar, form long queues outside the offices of various aid organisations and wait to receive clothes, food and medicines.
There is a rush to collect stacks of bamboo to protect weak settlements from the upcoming monsoon. Children help out too, carrying the heavy poles as they balance boxes of aid material on their little heads. Some children run around and play in groups, while others attend temporary learning centres where English, Burmese and mathematics are taught.
The Rohingya have faced brutal persecution and discrimination at the hands of the Myanmar government, which refuses to recognise them as citizens and has killed or forced out large chunks of their population in repeated, barbaric acts of ethnic cleansing.
Following the most recent cycle of violence in August 2017, more than 700,000 Rohingya have sought refuge in Bangladesh's Cox's Bazar district, taking their population in Bangladesh to about a million now.
Children and youth between 3-24 years comprise nearly half of the Rohingya refugees and are not allowed to pursue formal education in Bangladesh.
Only informal education is available through temporary learning centres and religious schools or 'maktabs' which offer Arabic language and Quranic education.
Maktabs are separate from the network of temporary learning centres and are funded by private Bangladeshi donors or countries like Saudi Arabia and Turkey.
Viewed against the backdrop of religious oppression of the Rohingya in Rakhine state, the maktabs are seen positively by the refugees in Bangladesh camp. The maktabs also keep the children occupied, since any movement outside the camp is not allowed.
Informal education their only option
Set up by UNICEF, Save the Children and local Bangladeshi organisations, the temporary learning centres, now numbering close to 1,100, provide informal education to Rohingya children aged 4-14 years.
Bengali, however, is not being taught, since the Bangladesh government does not plan to integrate Rohingya refugees with the local population.
It is past noon, and the temporary learning centre at the camp has wound up for the day. Children scamper out of the small room made of tin, sticks, and coarse cloth.
A blackboard, bearing the words 'beard', 'buttocks' and 'abdomen' in English, stands in a corner. The teacher, Mohammed Abdullah, an 18-year-old Rohingya refugee, rubs it clean.
As s Abdullah explains the curriculum to me, he is joined by Janatullah, also 18 and a Rohingya refugee.
Janatullah appears restless and angry – he was unable to attend his matriculation exam because of the violence that broke out in Myanmar's Rakhine state in August 2017.
"I would have appeared for the examination this year. I was the best in my class. But the violence drove us out. The Myanmar government murdered our families and prevented us from education. I wanted to study in a university and learn English. I do not know if it will ever happen. Now, I can only live on charity," Janatullah told Al Jazeera.
Staring at a bleak future
Janatullah speaks in English, which he says he learned after arriving in Bangladesh. But since he is 18 years old, no form of education – even informal – is available for him in the refugee camp. While Abdullah was able to find work as a teacher in the camp, Janatullah was not as fortunate.
His despair is echoed by Sanjib Sil, a resident of the adjacent Hindupara camp. A Hindu Rohingya in his early 20s, Sanjib said he had both fertile land and his own business in Myanmar. Now, he has nothing.
"I do not have even five rupees. I have to stand in line and beg for charity. I cannot step out of the camp. My future is ruined, and I am condemned to an unproductive existence. No girl will be willing to marry me," said a distraught Sanjib.
The tribulations of Janatullah and Sanjib are shared by hundreds of young Rohingya in Bangladeshi refugee camps who have been abruptly wrested from formal education and any chances of employment.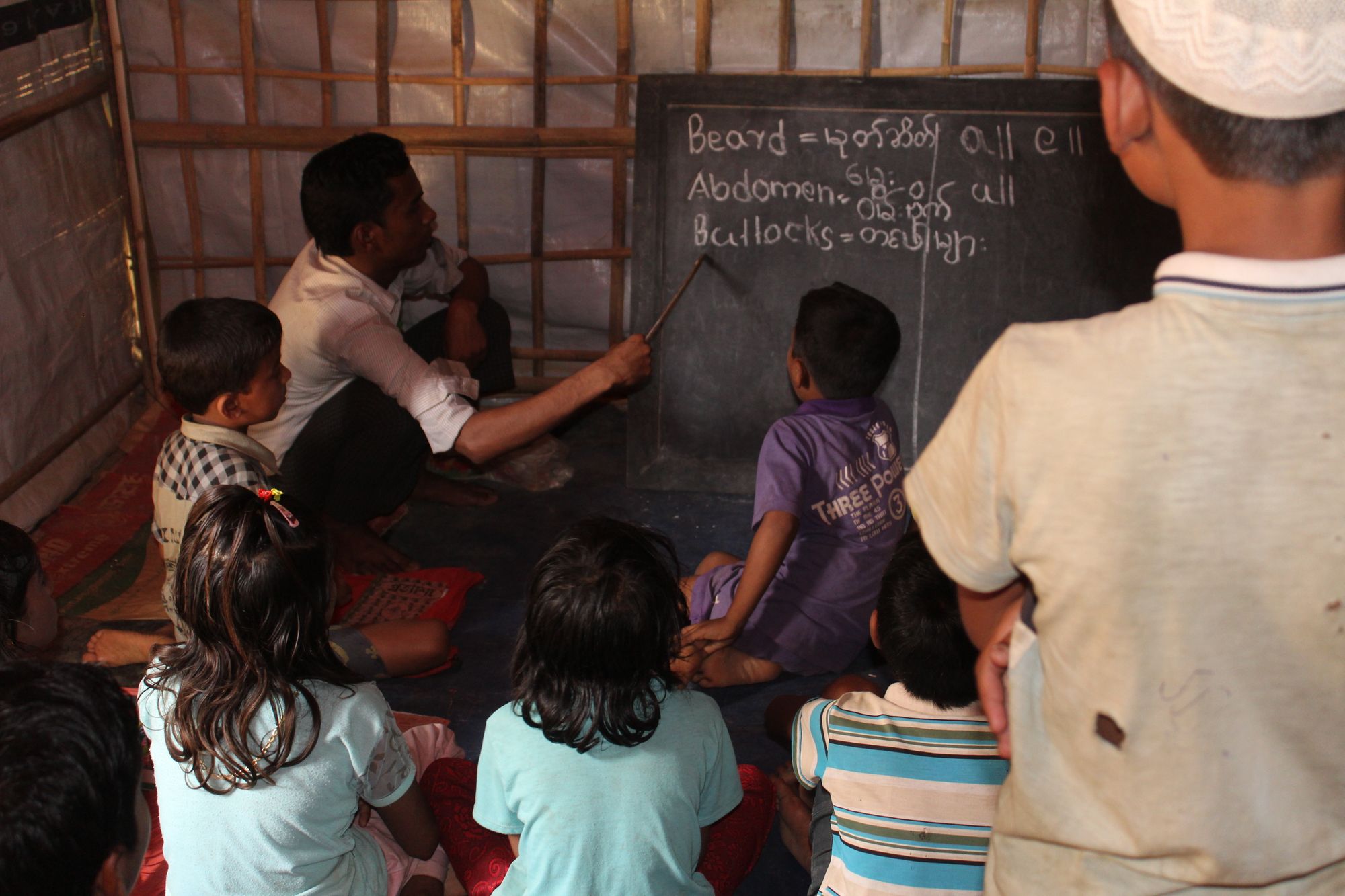 There are no formal jobs available for Rohingya in the camps. According to a recent report, nearly 62,000 refugees have been able to do small cash jobs in the camps.
There are also a few Rohingya who managed to escape Myanmar with some money and have been able to set up small shops where they sell vegetables, fruits and clothes to other refugees.
Nizamuddin, 32, is a Rohingya teacher at a temporary learning centre in Balukhali camp. He is a graduate, a rare distinction among the refugees because of long discrimination against the Rohingya in schools and universities in Rakhine state.
"It was not easy to complete graduation. I ignored the insults and humiliation of Muslims and tried not to get into fights. I passed out of Rakhine state's Sittwe University before 2012. That was the year fighting broke out between Muslims and Buddhists, and many Muslims were killed. It became almost impossible for Muslims to get admission in Rakhine colleges after 2012," he said.
Nizamuddin worked as a private tutor and taught in small rural schools in Rakhine and earned a satisfactory living. In Bangladesh, he earns 8000 taka ($96) a month and can teach only Burmese, English and mathematics, whereas, in Myanmar, he could teach more subjects.
My prospects have reduced here. I remember how I struggled to graduate. Has it amounted to nothing?" he asked.
Rohingya girls' situation worse
If boys and young Rohingya men are staring at a bleak future as stateless refugees, the situation is possibly grimmer for female children and adolescents who, apart from being forced to pull out of formal education, face the additional threats of child marriage and sex trafficking.
Nine-year-old Kasmin Fatema goes to both a temporary learning centre and a maktab at the Kutupalong camp. Gultaz Begum, her mother, has yet not decided how long she will permit Kasmin to go out.
Gultaz herself dropped out after third grade in Myanmar. "As I grew up, my family was scared that I would be harassed by Rakhine men," she said.
However, she is happy that Kasmin is learning English at the temporary centre. "Despite attending school in Myanmar, my daughter could not even write her name."
"Muslims faced a lot of discrimination in schools. Now she can write her name in English and read too," she said, hoping against hope that Kasmin could become a teacher one day.
Cover photo: Urvashi Sarkar
Read the original article: https://www.aljazeera.com/features/2018/04/13/with-no-formal-schools-or-jobs-young-rohingya-left-in-lurch/